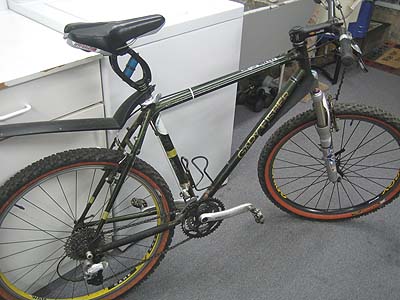 The contemporary Hoo-E
Make: Gary Fisher
Model: Hoo Koo E Koo
Year: 1995
Weight: 27.2 lbs
Frame: steel
Key Components
Forks: 2004 Fox F100RLT
Wheels: Spynergy Xyclone ceramic (f) ; Cane Creek Kronos (r)
Crankset: 2002 Shimano XT Hollowtech (44-34-24; 175mm)
Shifter pods: 2002 Shimano XT SL-M750
Front derailleur: 2001 Shimano XT FD-M750 Mega-9
Rear derailleur: 2004 Shimano XT RD-M750-SGS
Handlebars: 2004 Easton EC70 MonkeyLite (650mm)
Brakes: 2004 Nashbar Jail (f/r); but Shimano XT BL-M739 levers
Seatpost: Cane Creek Thudbuster
Grips: Ritchey TGV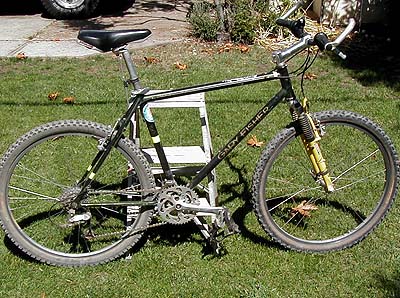 Original fruits, circa 2000
The Story
Purchased new from the Mountain Sports bike shop in Flagstaff, Arizona in August 1995 for $865.
The only original part on the bike is the frame. Major upgrades include gripshift to index shifting; cantilever brakes to V-brakes; LX to XT; and luscious Fox forks.
The Hoo-E is my workhorse training bike. I ride it exclusively in the offseason rainy months. It really takes a beating, but I maintain it pretty well and keep it clean. She just keeps on rolling.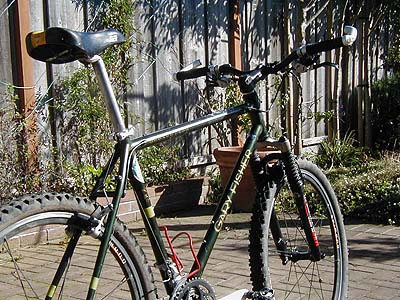 v2, circa 2003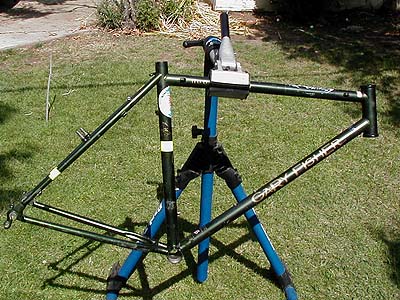 Stripped down for rebuild, circa 2000