With an eye toward the races in April, I've been thinking about doing the CCCX race on March 31. So when Romulus sent me an email today asking if I was up for this Saturday's CCCX throwdown in Salinas, my initial internal response was "I'm not ready."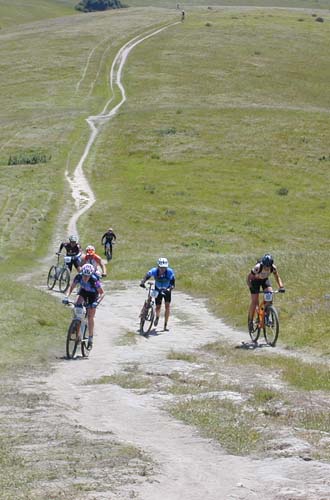 CCCX race conditions
But two things had me fighting my natural tendency towards nonspontaneity:
1) The race on Saturday is really a throwaway race -- it doesn't matter what happens. It wasn't on my original schedule when I plotted things out this winter, so it's really just gravy. It will give me and Romulus a chance to work on our racing skills, and it really doesn't matter how we finish as long as we go hard and work it out.
2) It's put up or shut up time. This is what all the hard rides and sit ups and self-catheterizations are for, right? For the races? If I don't do this race because I'm "not ready" then all my jabbering about bogies and slipstreams and conditioning regimens is just a load of crap. Why wouldn't I do this race?
So, I decided I was in, even though it meant reconfigging my conditioning schedule for the rest of the week. I had intended to do a longish road ride today on the Blade, but instead, opted for some trail time. I busted out the ProCal, cleaned the critical points, and set out for a mostly tempo ride with no hills. Just a nice spin with some technical degree of difficulty.
But my mind was dark and cluttered, with all sorts of negative energy flying around in that empty airplane hangar. Tax problems, business problems, blogs, pets, receding hairline, corporate skullduggery, political bullshit, the state of the environment, the stress on T-bone, family issues, and the Bush-league attitude of this damn country made focus very hard to come by.
Self-destructive tendencies coming to the fore to ensure a mid-pack finish on Saturday or just bad timing?
No, this was already coming on. I'm reaching my limit on bullshit. This whole country, democracy, capitalism, the rule of law -- it's all fixed in favor of the ruling elite (they being rich, powerful, and/or "famous"), and there is literally nothing that us "mythical little people" can do about it.
So, in that mindset, fuck it. If the rules don't apply to the rich and powerful and famous, then why should they apply to me? Fuck it, fuck them, fuck our bullshit system, fuck Bush (heh-heh, he said "fuck bush" heh-heh), fuck Congress, fuck corporate globalism, fuck bullshit immigration policy, fuck tax law, fuck drug policy, fuck it all.
People:
IT'S ALL A HUGE LIE -- DON'T BELIEVE ANYTHING ANYBODY TELLS YOU ABOUT ANYTHING. IT'S ALL LIES INTENDED TO TRICK YOU INTO GIVING UP YOUR RIGHTS AND YOUR MONEY, AND EVERY THING THEY TRICK, STEAL, OR THREATEN OUT OF YOU IS AT YOUR EXPENSE.
Insurance companies, HMOs, lawyers, pharmaceutical companies, the education system, financial services, the courts, the media -- ALL LIARS! Commercials, PR, movies, TV, music, sports, press conferences, religion -- ALL LIES!
It's all lies. Anything you are being told is what that person or entity wants you to believe, and what they want you to believe is for their benefit, not yours. There is no truth except whatever you choose to believe.
Uuuggggghhh! Serenity goddamn fucking now!
The question for Saturday is can I take this angst and make it work for me, or will it drag me down. Stay tuned.
Out on the bike, my polluted mind had the advantageous side effect of keeping the pace light and easy, with numerous stops for photos and futzing. My head just wasn't in the riding -- I even forgot to reset my cyclometer -- and that prevented me from riding like a maniac and tiring out my legs before Saturday. Thank goodness for shitty biorhythms.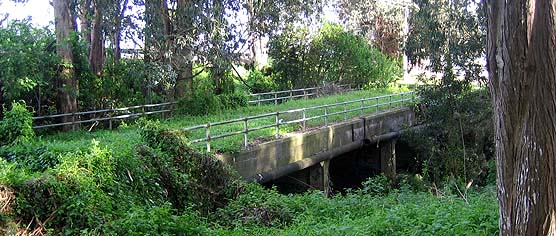 The old bridge over Frenchman's Creek
Usually when I'm in a grumpy mood, exercise of any kind does wonders. Today started off poorly though when I stopped to take a picture of the old concrete bridge over Frenchman's Creek north of Half Moon Bay. As I lined up my shot, I looked down and whaddya know America, there on the ground, packaged up neat as you please in a nice tight little ball of plastic, one regulation red-white-and-blue disposable diaper. I've seen some buzz on the right-wing blogs that there's a move afoot in Congress to change the stars on the American flag to balled-up diapers -- to be more representative of Americans' attitude toward themselves and their country.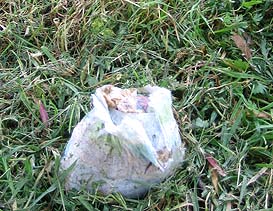 American splendor in the grass
Enough with the goddamn dirty diapers. Who are the parents out there that think it's OK to just leave you kids' soiled crap rags lying around in rain gutters, Wal-Mart parking lots, and the first row of bushes off the highway. Just because it's a disposable diaper doesn't mean you should dispose of it out your car window. Throw the shit away!
My mood was lightened when I spied some college-age stoners lighting up out on the blufftops. As I rode by I called out "smells good" and they offered me a hit. I declined, but the fact that total strangers would offer me some of their sacred herb was uplifting. That's the spirit.
| | |
| --- | --- |
| | |
| Ass clowns and dumpsters | are not a good mix |
Of course, that sentiment was immediately pissed on when I noticed that some ass clowns has pushed a dumpster down the access embankment to the beach, spilling the contents and the dumpster onto the sand 50 feet below. People are shit.
Animals are the only innocents in this world. The snowy plovers were out en masse on the beaches today, so that was pretty cool. But these poor birds need sandy beaches to go about their seasonal and instinctual business, and with all this human vermin swarming all over the place, there's not much habitat left for the plovers or any other animals.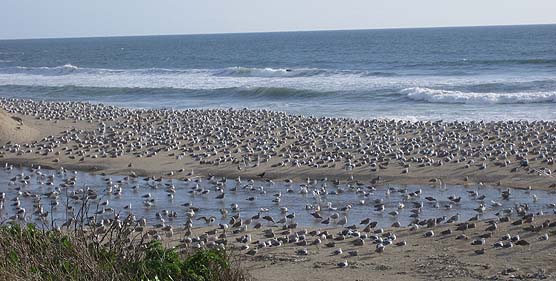 Plovertown, USA
It probably doesn't help that I'm reading Tourist Season by Carl Hiassen right now. Or that Rainbow Six is one of my favorite books. Yeah, I see you there NSA, just throw it in my file with the other stuff.
The mood swung up again when I pedaled by Strawberry Ranch, the site of me and T-bone's most excellent wedding reception. Ahh, good times.
Tomorrow I've got to wash and lube the ProCal to within a millimeter of its life, get my race gear sorted and packed, and start to dial in the membrane. And, it's burrito night!